Sustainable offers a full Design & Construct service. This means that the Sustainable Team delivers the project from Concept and Architectural Design, to Construction and Management of all internal carpentry build.
Why should you engage a Design & Construct company?
We develop your vision from Concept to Completion – 1 Team ensures that your vision is carried through the project, from Concept to Completion.
We Project Manage the entire process and all external parties – 1 Team to coordinate all external parties including engineers, certifiers, and trades, so at all times you know who is in charge and who to contact.
We understand the Construction Process and deliver beautiful, architecturally designed homes in an affordable manner.
At Sustainable, our designers are award-winning Australian Greensmart Professionals. Collectively, we have been recognised and awarded both locally and nationally with more than 70 high-end Building Design Awards.
Recipe House D&C Example
Recipe House Process
How it works? Simple selection process:
1. You purchase a block of land and come to us. We provide advice in regards to what modules we believe will best suit the site and provide information on orientation, ventilation, slope etc.
2. You decide what modules you want and how many. There are different Living, Sleeping and Garage modules for Small, Medium and Large families that are combined to create your home. You can pick and choose between the small, medium and large modules.
3. You select from our range of finishes, fittings and fixtures. All of which will be provided to you as part of our standard information package.
4. Your Working Drawings are produced, and Approvals and Engineering are obtained.
5. Your Recipe House is Constructed.
Your site
Is your site/block of land ideally suited for Recipe Housing®?
We build Recipe Houses on the following sites:
Remote/difficult sites of all sizes/shapes and contours
Flat or steep slopes (we do both slab on ground and houses raised up on steel posts)
Urban development projects
Small Lots, Large Lots or Acreage
Locations were trades people are scarce
Projects with budget limitations
Projects with time pressures
Site where access to amenities is limited.
The end result is a beautifully designed house, unique to your site and your needs, without the traditionally associated costs. Recipe Housing® is the affordable and sustainable method and solution to building houses of the future.
Where
Sustainable by Remote Locations Designs & Constructs Recipe Houses throughout:
Brisbane
Gold Coast
Sunshine Coast
Moreton Island
Southern & Darling Downs QLD
Toowoomba
Northern NSW
Sustainability
Living Sustainable saves you money!
Our superb Sustainable Home Designs incorporate principles of sustainability within our designs to address both your current and future needs.
We focus on lifetime solutions and look at the 25-year Life Cycle of your Home and savings to guarantee the certainty of your lifestyle and the certainty of a realistic fixed budget. This means dollars back in your pocket in the long-term!
Sustainable Homes are passively designed and energy efficient. All Sustainable Homes take into account our proven Sustainability Principles for over 30 years, including:
Passive design
Energy efficiency
Solar orientation
Passive ventilation
Site management
Built form issues
Views & Vistas
Challenges versus commercial outcomes and opportunities
Life Cycle Assessment of building, product and material choices to manage your Ongoing Resource Management & Costs after your home is constructed.
Design Stages
Design Stage 1: Needs & Site Analysis
Design Stage 2: Concept Design & Detailed Design
Design Stage 3: Working Drawing
Construction Delivery
One of the benefits of selecting Sustainable by Remote Locations is that we Project Manage the entire Design and Build process, including liaising with and obtaining all other information from external consultants.
The main consultants/services you need include:
Surveyor for a survey and contours plan of your site
Soils Test
Structural Engineer
Building Certifier for Building Approval
Other consultants and services you may need that Sustainable Project Manage for you, include:
City Councils (i.e., Brisbane, Ipswich, Gold Coast, Sunshine Coast, etc.)
Town Planners for Development Approvals
Accoustic Engineer
Environmental Engineer
Arborist
Bushfire Consultant
Time
A Sustainable Recipe House® (one of our Designs customised for your site) will involve:
Small Module House:

Design Stage – 5-6 weeks (approximately)
Construction Stage – 10-12 weeks(approximately)
Medium Module House:

Design Stage – 6-7 weeks (approximately)
Construction Stage – 12-14 weeks(approximately)
Large Module House:

Design Stage – 7-8 weeks (approximately)
Construction Stage – 14-16 weeks(approximately)
An example of a small Recipe House®: the Tivoli House took approximately 10 weeks.
An example of a large Recipe House®: the Boonah House took approximately 4 months with 2 months for landscaping.
Sustainable D&C Services
Company Brochure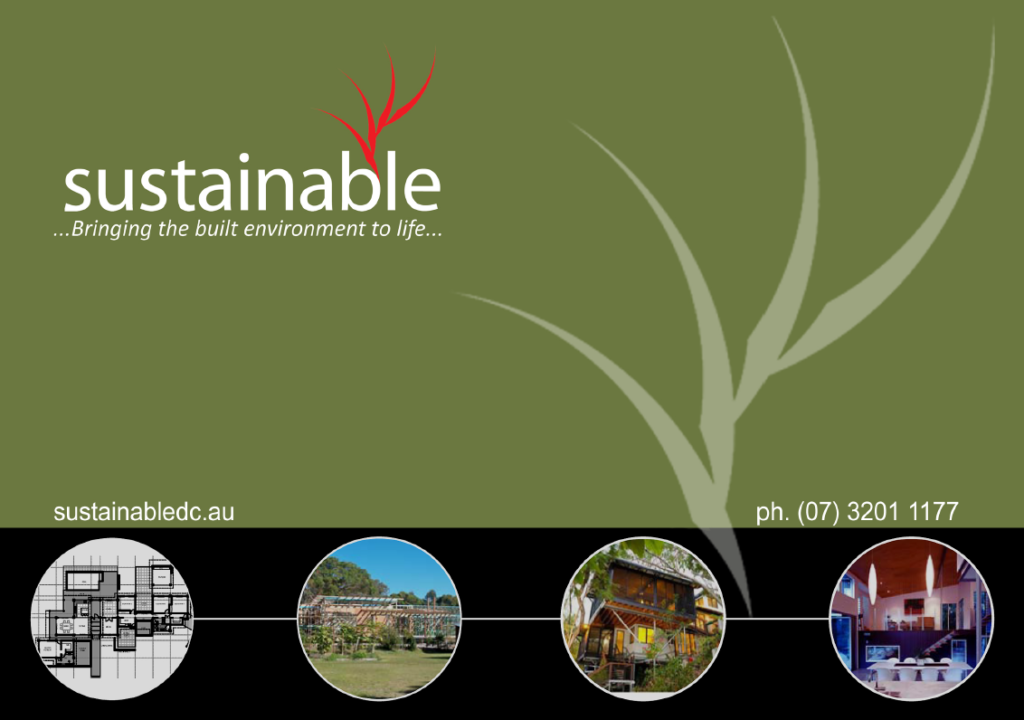 ---
S5, Ep. 3 — "Building For Climate Resilience: Australia's 2022 Flood Disaster"
May 18, 2022
PROTECT Podcast, Episode 3, S5 – "Building For Climate Resilience: Australia's 2022 Flood Disaster" | Host: Angela Fedele; Guest Speaker: Brett McKenzie (Sustainable CEO)