The Brookwater Design Studio features in the prestige Brookwater development which is located in Brisbane's leafy western suburbs. Read below about one of the Sustainable Buildings in Brisbane.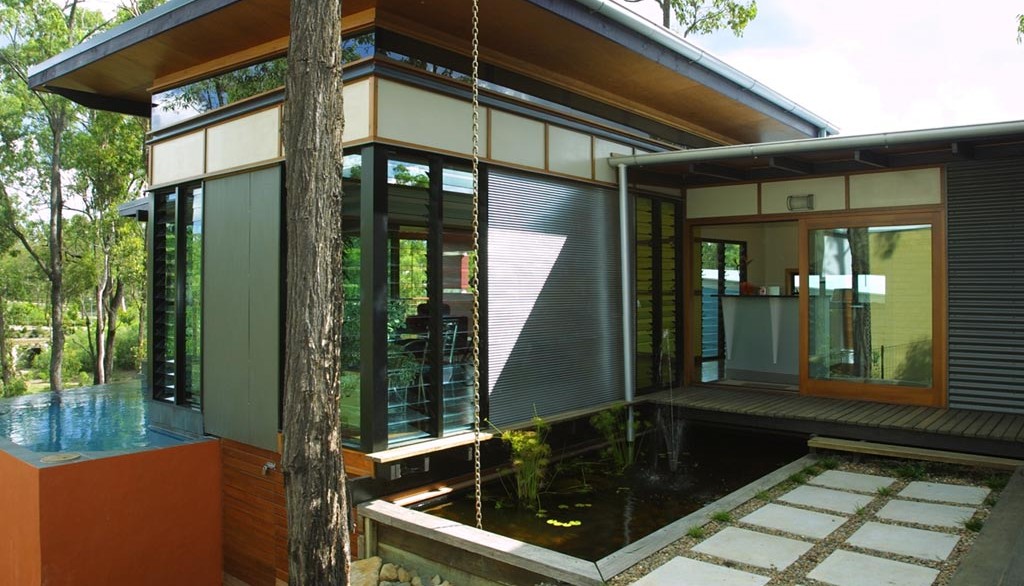 The spectacular site is the inspiration for this striking Designer Home, with the dramatic slope of the terrain providing the basis for the innovative architectural Design. The site also offers passive solar and cooling elements and maximum use is made of these to enhance living conditions while making it economical and energy efficient home.
A key philosophy in developing this project was to always touch the earth lightly so as to disturb the least amount of soil in cut and fill. The Brookwater Design Studio reflects this by creating an important physical connection to the earth with a masonry blade wall running the length of the building, projecting out in a radius to fully capture the spectacular views and the magnificent nearby golf course.
Sustainable re-used the soil extracted from the foundations within the site to create the least possible disturbance to the surrounding environs.
The project was built with the belief that a home should be a monument of individualism, a place of refuge and also a solid family foundation. The Brookwater Design Studio reflects these beliefs by consisting of as few rooms as possible without becoming one large common room.
The Brookwater Design Studio's colour schemes are inspired by the local native area and reflect the belief that colour inspiration derived from nature provides the most pleasing and timeless exteriors and interiors. This is one of the interesting factor of sustainable buildings.
The Brookwater Design Studio is Sustainable's biggest award-winning development to date, see all awards here.