| | |
| --- | --- |
| Date: | Sunday 19th June 2022 |
| Forum 1: | Contributing to a sustainable city, starting with your home and backyard |
Sustainable CEO Brett McKenzie was invited by Brisbane Sustainability Agency to attend the Queensland Science's Sustainability & Science Showcase and contribute to a Forum containing 4 other sustainability industry experts.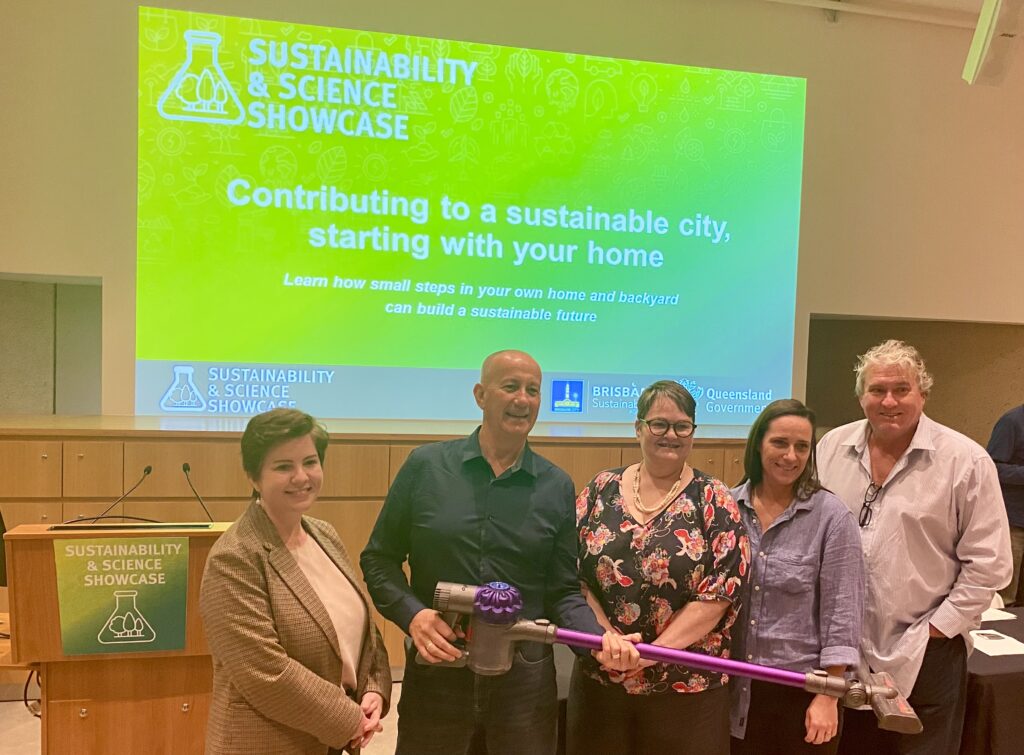 The event generated a considerable amount of community engagement, and the discussions created particularly stand as a stepping stone for community sustainability and collectively tackling climate change.
For the forum, Brett was asked to discuss 'creating sustainable homes and retrofitting current homes for sustainable communities.' The Sustainable Team have broken down the key aspects of Brett's speech below, and have outlined 'waste within the construction industry' as an important aspect in contributing to sustainable homes and futures.
Waste
The construction industry delivers approximately 60% of all its waste to landfill
Designing Sustainable Homes starts by reducing waste

The Sustainable Team recycles 98% of all waste on-site

E.g., Sustainable is currently two-thirds of the way through their Toowoomba build. The Sustainable Team have only taken 5x cubic bags of waste off the site (containing mainly packaging) to landfill. Whereas, most sites will have 5 or 6 skip bins of waste taken off site to landfill int eh same time period.

Waste is not only material things, it is also in resources

Housing stock is one of the biggest contributors to carbon emissions
A lot of homes are on life support (i.e., need mechanical ventilation, lighting, etc.)
Creating Sustainable Homes
When designing sustainable homes:

It has to start organically, from it's location and the history of the area, and by looking at the built-form around it and respecting that
Apply 25-Year Lifecycle Modelling around its Occupants

Have Adaptable Space

Create an environment to zone the house off (e.g., A nursery becomes a media room later on)

This:

Reduces monoculture in our communities
Creates longevity of occupancy
Retrofitting Current Homes
Generally, society is quite limited in our approach to retrofitting current stock
It is important to:

Think laterally of the current space
Reflect on the initial design & intent of the home (which is generally quite different to the intent of our lifestyle today)
Think about how to make a passive difference to the space by asking the difficult questions (e.g., Is the kitchen in the right location?)

In approaching Retrofits, the key aspects are:

Bringing it back to basics
Implementing a volume (cubic metre) model (i.e., more volume in a room = better passive performance)
Looking for the opportunities
Sustainable Communities
It is all about embracing and going back to village life

Bringing it back more local & delivering locally produced products
Maximising current spaces

Introduce community gardens (in backyards for example)

Communities become more engaged & a lot safer
Less greenfield development
More Information
Sustainability & Science Showcase
Event Host:
Hannah Turner
Specialist — Marketing & Community Engagement
Brisbane Sustainability Agency
MC:
Dr Karen Hussey
Deputy Director General
Queensland Department of Environment and Science
Speakers:
Renae McBrien
Tarragindi Community Garden Founder & Resource Recovery Advocate
A/ Professor Carol Richards
Social, Food & Agricultural Scientist at QUT (specialising in Sustainable Food Systems)
Les Barkla
Redcliffe Repair Café Founder
Brett McKenzie
Founder & CEO Sustainable Pty Ltd.